30 November 2018 – 06 January 2019 Calle Larios – Málaga
Light and Sound Show at 6:30 and 9:30 p.m. Until the 4th of January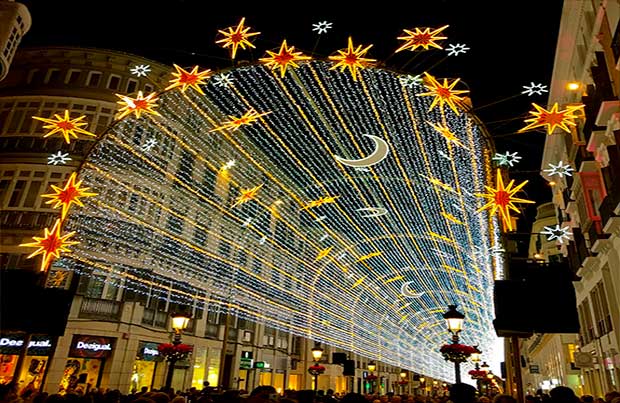 As every year, Málaga dresses up to celebrate this Christmas. Once again Calle Larios will make us enjoy its traditional Christmas lights.
It has already been confirmed that on November 30 will be the inauguration of the long-awaited decoration of Christmas Lights, present in the historic center of Malaga and with a design inspired by the Malaga Cathedral.
Remember that the atmosphere of lights and sound, is on behalf of the company Illuminations Ximénez, which among other works, is responsible for giving light and color to the famous Fifth Avenue in New York, Las Vegas, Dubai or Hong Kong among others.
It is not for less, that tourists from all over the world, visit our city of Malaga at this time and be able to enjoy such a wonderful Christmas show within an environment of unparalleled Mediterranean party.
For these holidays 2018/2019 it is foreseen that there will be 2 lights and sound lighting per day, one at 6:30 p.m. and the next at 9:30 p.m. It is also good to remember that the last day you will see this show in these parties will be on January 4, although the lights are extinguished until January 6 with the arrival of the Three Wise Men.
This great show you can not miss. The Larios Street Lights await you and Libra Rent a Car reminds you that you can book your car in advance and benefit from significant discounts, as well as provide our airport service so you can enjoy your rental car from the first minute.
---
30 November 2018 – 06 January 2019 Calle Larios – Málaga
Light and Sound Show at 6:30 and 9:30 p.m. Until the 4th of January
Libra rent a car makes it easier for you.
Rent with us at the lowest market costs, without cheating.