Advance reservations with 15% discount
Until November 30, 2018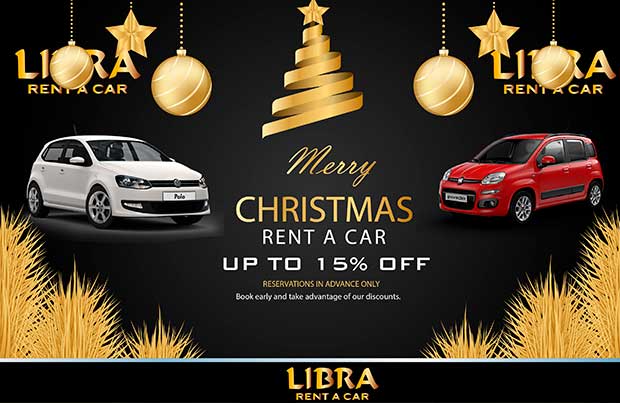 Last day of October and with him, the imminent arrival of November.
With November at the doors, Christmas and the new year we begin to plan what we will do at parties.
We think of destinations, where we will spend Christmas this year, the New Year and the offers to find on these dates.
While it is true that Christmas and the New Year are considered in the service sector as "High Season", in Libra Rent a Car, we want to offer you the possibility of renting a car in Malaga for these holidays, and costing you up to 15% less.
Rent a car in the Costa del Sol, Malaga, you get cheaper than other years.
In Libra Rent a Car, we want you to just think about enjoying the beauty of the Costa del Sol. Your events and parties are an attraction and an unmissable taste, so we help you book your car and you can ensure the peace of mind that you have rented a car at the best prices and with the quality and personalized service we have been offering for years.
Our clients know why they always rent cars with Libra Rent a Car, if you are not yet a customer, take advantage of this promotion so you can check our service and attention.
We remind you that we have the airport service, which you can also request with us, so you can enjoy Malaga from the moment you arrive, until the last minute, with total privacy and comfort.
---
Advance reservations with 15% discount
Until November 30, 2018
Libra rent a car makes it easier for you.
Rent with us at the lowest market costs, without cheating.