Featured news of Fuengirola Málaga.
Libra Rent a Car in Fuengirola, Malaga keeps you up to date on the Costa del Sol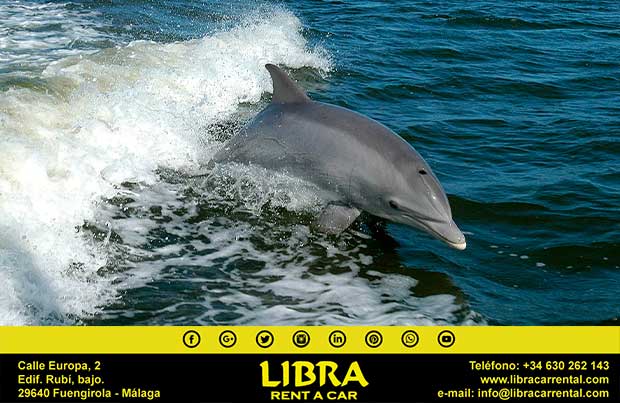 There is no doubt that the Mediterranean, its air, beaches and waters are a very important tourist attraction for the entire Costa del Sol, within these adjectives, there are endless adjectives where we can praise the charm of the area. But what brings us today and full of pleasure, pride and joy, is knowing that, OceanSea scientists have recorded in the last three years up to 651 whale and dolphin sightings on the Costa del Sol, specifically in the area of ​​Fuengirola and Benalmádena , where they have been able to see the common species of these cetaceans and other threatened that require special protection – such as the loggerhead turtle, also observed in the waters of Malaga -, among which the porpoise, which was believed to have disappeared, is included from the Mediterranean.
The space between the Sea of ​​Alboran and the coast of Malaga is currently an important area for marine mammals, since it is classified as such by the International Union for the Conservation of Nature (IUCN)
For the tourists that visit our coasts, one of the unique and unmissable attractions is to embark on the coastal waters that go from Fuengirola to Benalmádedna and vice versa, to enjoy these dolphin sightings that usually accompany each journey.
Taking advantage of these trips, OceanSea has carried out studies of abundance and distribution of cetaceans in collaboration with the company Costasol Cruceros.
Thanks to this agreement and the work of OceanSea researchers, 651 sightings of cetaceans have been recorded on the Costa del Sol in the period between November 2015 and September 2018.
The species found are the bottlenose dolphin (542 sightings); the common dolphin (79); fin whale (12); loggerhead turtle (7); striped dolphin (4) and the most striking of all, the sighting of the harbor porpoise, seven times, off the coast of Torrequebrada.
For its part, the researcher Samantha Blakeman, who presented these results last weekend at the Congress of the Spanish Cetacean Society, held in Bilbao said in this regard:
"We speak of a species almost disappeared in the Mediterranean."
At a scientific level, the discovery of porpoises in the area of ​​Fuengirola and Benalmádena is very important, but at the tourist level, it is an immense opportunity for lovers of these species and those who have not had the opportunity to live the experience, to enjoy another of the charms that the Costa del Sol has to offer.
---
Featured news of Fuengirola Málaga.
Libra Rent a Car in Fuengirola, Malaga keeps you up to date on the Costa del Sol
Libra rent a car makes it easier for you.
Rent with us at the lowest market costs, without cheating.