April 30 to May 5
Fairground of Fuengirola
Paseo Jesús Cautivo, s/n, Recinto ferial de Fuengirola, Fuengirola, 29640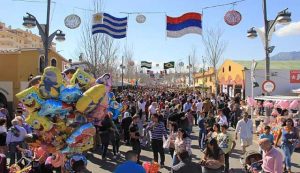 FIP 2019
25 Anniversaries
This year 2019, as it could not be otherwise, Fuengirola organizes the traditional fair of the towns. An event that began as a way to integrate the more than 120 different nationalities that live in the city of just 14 square kilometers and 80 thousand inhabitants.
The International Fair of the Peoples (FIP) celebrates its 25th edition and for this occasion, the events destined by the different stands and villages, will be at the height of this long awaited party.
Year after year, the Fip was gaining ground in front of the great festivals that take place in Spain, but the truth is that its development, favored by the environment and the great diversity of nationalities that participate, has given it a worldwide impact that transcends continents.
To date, the FIP widely exceeds one and a half million visitors in just 5 days, which has led it to be one of the main parties in Europe in terms of integration, diversity, culture and cuisine.
Recall that this year will be six days that we can enjoy it.
The International Fair of the Peoples of Fuengirola, is not just another fair, it is a must for all people, all ages and nationalities.
For this 2019, both the City of Fuengirola and the different booths representing more than 30 peoples of the world represented in them, will be able to live up to such an important commemoration as 25 years of uninterrupted life, integrating and shining with their own light. the eyes of the world.
---
From 30 April 2019 – 05 May 2019
Fairground of Fuengirola
Libra rent a car makes it easier for you.
Rent with us at the lowest market costs, without cheating.